One of the most interesting contributions to the Woodstore Quintet quality of music is given by the experiences of its musicians, performers in many other contexts (big bands, combos, orchestras) and sideman of well known musicians like Tom Harrell, Carla Bley, Steve Swallow, Billy Cobham, Steve Grossman, Rick Margitza, Joseph Jarman, Roscoe Mitchell, Richard Galliano, Colin Towns, Flavio Boltro, Paolo Fresu, Maurizio Giammarco, Giorgio Gaslini, Antonio Faraò, to name a few.
The ensemble has rapidly gained public and critic support: just a few months after its birth, WQ (with M.Carboni, R.Polcino, M.Tedde, P.Spanu, G.Filindeu) have been awarded the first prize (performance section) of the international competition BargaJazz 2001. This award has been granted unanimously by the jury (<< "no doubt for the jury, composed of musicians, proclaiming the winner" >> Il Tirreno, Barga 17/07/2001).
In october 2001 the Woodstore Quintet recorded its first studio work: the recording, named "Distanza", has been published by Splasc(h) records in june 2002 and has gained a very good support from critics and audience. The band also appears on "Live all' Ambra Day - Estate 2002" (various artists), recorded in july 2002.
In august 2002 the band (together with the cello player Ernst Reijseger), joined the Orchestra Jazz della Sardegna to perform the music for Buster Keaton's movie "Steamboat Bill Jr", composed and conducted by Bruno Tommaso.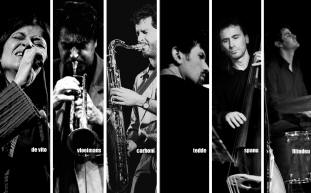 Since the end of 2003, after some collaborations (among them the trumpet player Flavio Boltro) and performances in jazz festival (AprilJazz, Time in Jazz, Musica sulle Bocche, Animanera Jazz & Soul etc.), the Woodstore Quintet started two new projects: the first one features the world-class singer Maria Pia De Vito for "Roads Under Construction" project (that shows the band facing pop and rock compositions from '70 and '80), while the second one features a trumpet master like Tim Hagans.

Mixing these two settings (Tim Hagans, trumpet - Massimo Carboni, tenor sax, Mariano Tedde, piano - Paolo Spanu, bass - Gianni Filindeu, drums and the guest Maria Pia De Vito, vocals), Woodstore has recorded its second studio work: the record "41st Parallel", published in fall 2005 by the German jazz label Nagel Heyer Records, has also been selected as "Album of the Week" on "The Independent" in january 2006.

During 2005 the Woodstore Quintet also hosted other fine musicians like Tom Kirkpatrick that performed with the ensemble in the Italian Jazz Festival in London and the exciting Dutch trumpet player Eric Vloeimans that joined the band since the Terni Jazz Festival 2005. In 2006 the band was also pleased to host the american trumpet player Andy Gravish.

The Independent (Uk) ...bright arrangements and engaging solos (...) 41st Parallel it's a highly enjoyable album with a nod to yesteryear and a few innovations."

Musica Jazz (Italia) ...41st Parallel... un disco di spessore e un modo molto intelligente di riconsiderare il passato.

The Irish Times (Ireland) ...a fine, tight, well-focused band...

Jazz Notes (France) ...Woodstore Quintet dispense un charme certain, naviguant dans un univers inspiré d'une qualité d'une belle amplitude. A la fois étonnant, très bien fait, et constamment renouvelé.

JazzIt (Italia) …nuovo disco e ribalta internazionale per il Woodstore Quintet, unica formazione italiana a incidere per la prestigiosa etichetta tedesca Nagel Heyer. "41st Parallel" è impreziosito dalla presenza di Tim Hagans e Maria Pia De Vito ed esprime una musica cosmopolita, di grande impatto e di freschissima impostazione…